The Organic Papaya Line is suited for every skin type. BIO:VÉGANE is the frst brand to use natural AHA (Alpha-Hydroxy Acid) in certifed natural cosmetics. This exclusive property makes the products of these lines special. They combine the unique efect of natural certifed AH acids with the exotic organic papaya extract.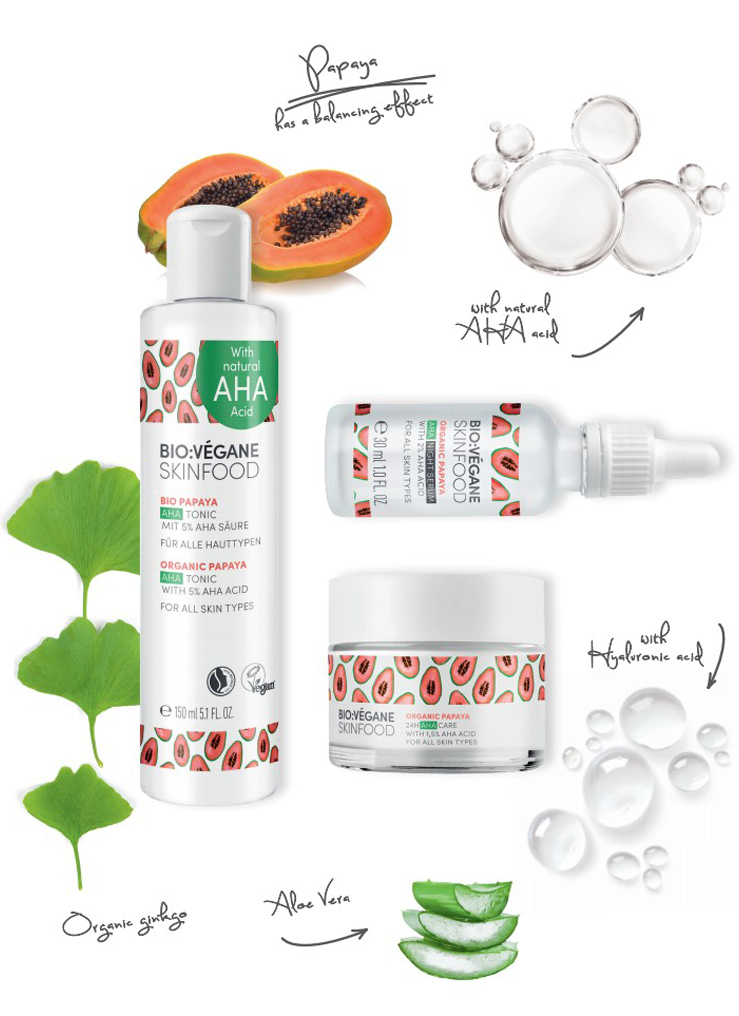 Our skin renews itself about every 28 days. This is great, but actually dead skin cells may remain which lead to a dull complexion and clogged pores. In order to reach a radiant skin tone, deposits should be removed regularly so that the natural renewal process of skin can be activated.
The AHA silver bullet, gained from lemons, grapes and sugar cane, has a delicate peeling efect and restores skin's radiance. Glow, Baby! It reduces skin's pH value and thus improves its moisture binding ability. The skin tone is evened out, the new formation of cells is promoted and the absorption of ingredients optimized. Thanks to the utilization of acid, skin's protective acid mantle is strengthened and its defensive function fortifed. Moreover, scars can be evened out, the look of skin impurities improved and pigment spots lightened.
The new Power Superfood organic papaya is the beauty allrounder from the tropical regions:
It has plenty of vitamins A, C, E and beta-carotene
Supports the new formation of skin cells and has an anti-oxidant efect
Imparts a luminous complexion
Smoothens fne lines and wrinkles
Reduces the skin pores and diminishes skin impuritie
GET LATEST MINIMALISM NEWS
Newsletter Subscribe
It only takes a second to be the first to find out about our latest news and promotions...